Welcome to Camp Pugwash!!
Camp Pugwash is located on the beautiful Northumberland Strait, near Pugwash,NS, and provides a variety of natural settings, including a beach. We have many new buildings including new cabins and bathrooms.
It is the perfect place to experience a variety of activities and to embark on an unforgettable journey.
Memories created at Camp Pugwash will ensure that this will be a summer that lasts forever!
This year take advantage of getting paid to bring your friends to camp.
For every NEW friend that you bring to camp this year—You will receive a 50% discount for each friend. Up to a maximum of two friends. This applies for Junior and Teen Camp Only. So here is the breakdown.
1 Friend—-50% Discount
2 Friends—100% Discount
2 Friends—You come for FREE!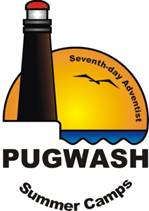 Camp Pugwash is a non-profit Christian camp owned and operated by the Maritime Conference of the Seventh-day Adventist Church Inc. We are happy to accept campers of any race, religion, or nationality. Our camp program features the Christian teaching of salvation according to the Gospels.